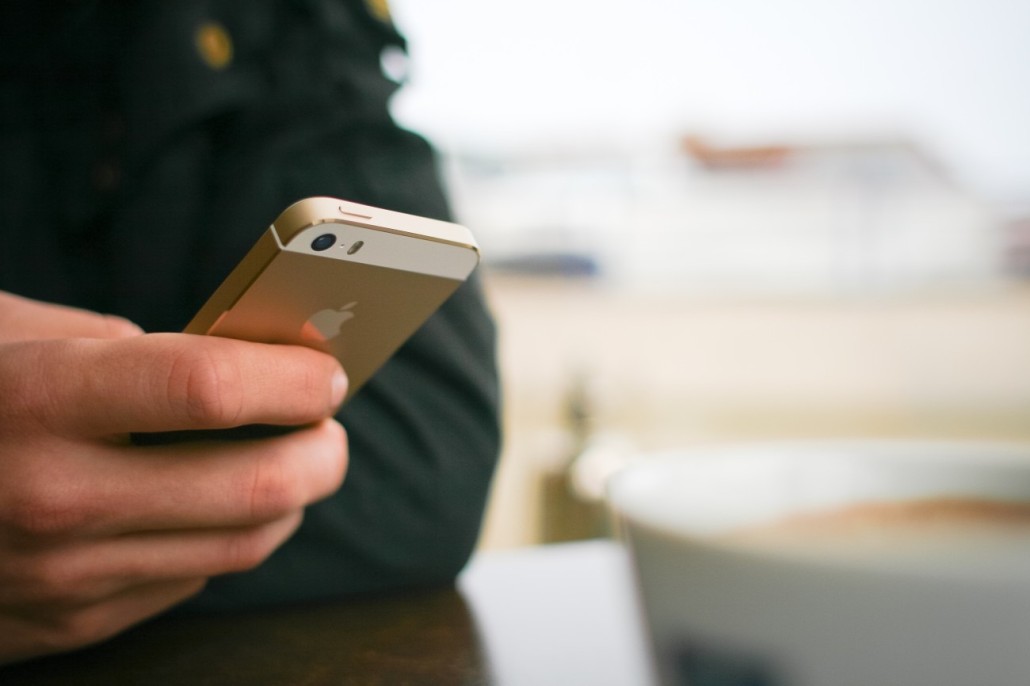 We're delighted to announce the latest Apple iPad/iPhone update for Inspector, our property inventory app. The release includes new time saving features to ensure you're producing reports as efficiently as possible, as well as several performance improvements.
There's also an update for Android about to be released – we'll let you know when it's ready for download.
Important: It's vital that you keep your Apple iOS platform and the iSurvey app updated to the latest versions to ensure there are no bugs within your system. Otherwise we can't guarantee that the Inspector app will run correctly and you may encounter problems. See Latest Versions below for instructions on keeping these up to date.
New Options for Photographs
1. Use Photos from Library – Multiple Select
We've introduced a multiple select facility within the property inventory app, allowing you to get photographs into your reports faster. You can now snap as many photographs as you need using either your device camera or a digital camera and then transfer them into your iPad or iPhone Library. You can then select the required photos from your camera roll into the appropriate area of the iSurvey report. This is not only quicker, but means you'll have original, high-res photos saved to your device as well.
To enable this feature, go into Settings, Report Settings within iSurvey and click 'use photos from library'. Then, when you go to take photographs in iSurvey, your camera roll will appear – you can select the ones you need for each area of your report.
2. Save photos to camera roll and retain originals
If you'd prefer to use the normal iSurvey property inventory app camera, that's fine as well. To help you, we've added the option in Settings to save full resolution versions of photographs automatically to your camera roll when using the iSurvey camera. This means you can have access to originals, which could be useful in the event of a dispute
To enable this facility, go to Settings, Report Settings and select 'save photos on the device'. The app will create a folder with the name of the property in your camera roll.
Important: If you wish to retain the original photographs we'd suggest you regularly move them from your device library to your PC directory or to a facility such as Dropbox, otherwise your device may run out of memory.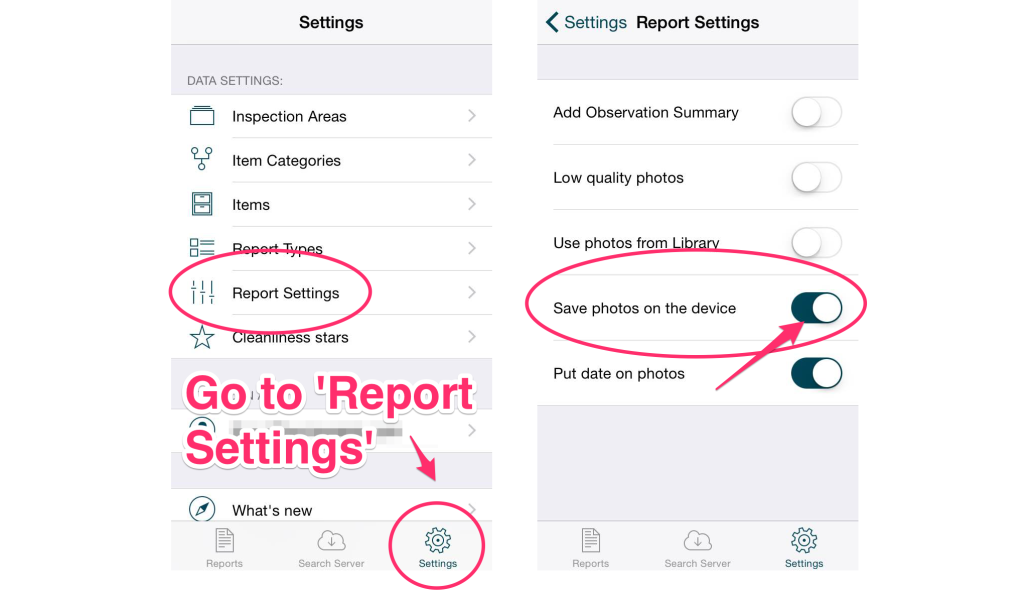 Multiple delete
Deleting individual items and rooms can be time consuming. To delete items and rooms with the latest update, click 'Edit' at the top right of the screen, tap the rooms or items you need to get rid of, then click delete at the top right. It's a much faster and more efficient process than before.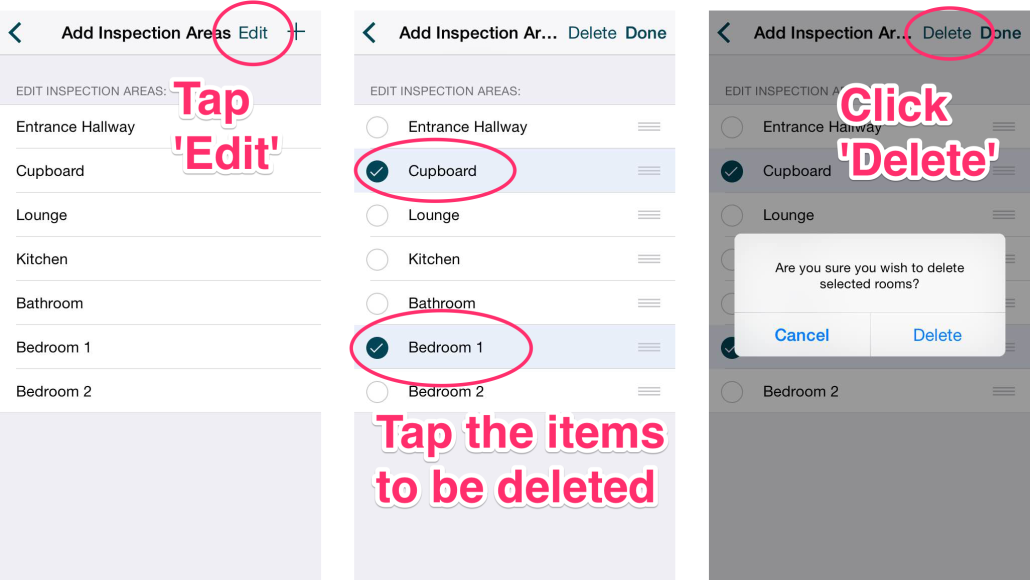 Swipe to next area
Users gave us feedback they had to do a lot of back tapping and 'in and out' actions to navigate around the property inventory app's menus and compile reports, which was slowing down the process.
We've solved this by adding a feature that allows you to swipe between rooms and items to navigate the app faster. To use this feature, swipe right or left on the name of the room or item to move to the next or previous area or Item. If you've added more detail to an Item (e.g. Type /Feature /Fitting /Comment /Observation) there's also a new button below Comments which will take you straight to the next Item in that Room.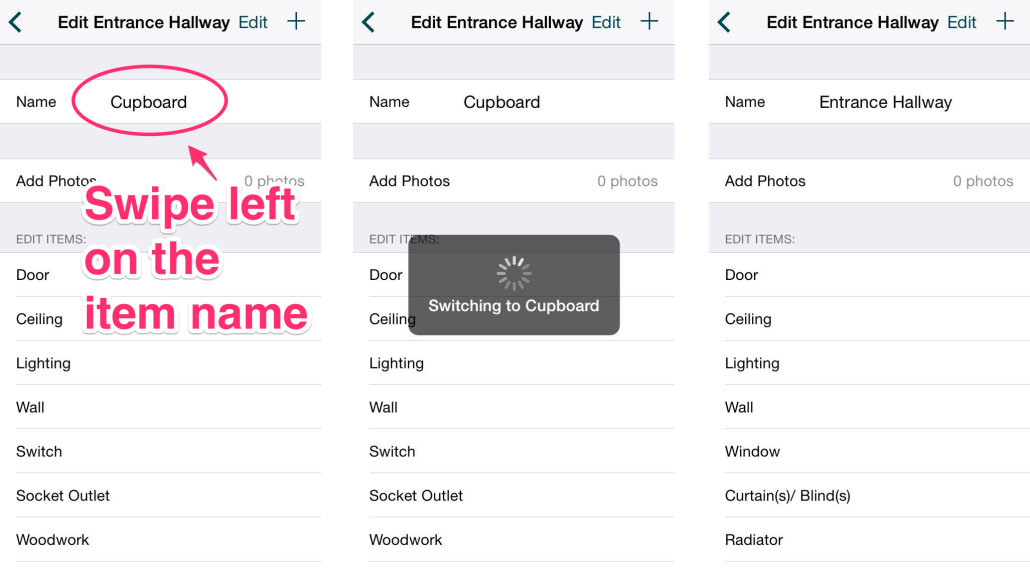 Copy room enhancements
We've made some improvements to the copy room feature within the app, meaning observations and photographs are not copied across. To use this feature, tap and hold the room name label and the copied area will appear below your other inspection areas. Rename and edit accordingly.
Latest Versions
To download the latest versions of Apple iOS and iSurvey Inspector:
1. Make sure you've previewed all reports and saved all templates to our server within your current app
2. Delete the current app from your device.
3. Make sure you're running the latest version of iOS 8 (on your iPhone or iPad go to Settings, General, About then check Version number – you will probably have an update instruction waiting)
4. On your iPhone or iPad, go into Safari and head to www.isurveyapps.com/install

5. Click the latest version (2.6.6) and confirm that you trust us as a developer
6. The app will begin to install in the background, click the home button on your device to exit Safari
7. Login as normal
If you have any issues installing the latest version or have any questions about saving templates etc, please contact your account manager directly or email support@isurveyapps.com.
—
Enjoy this article? Follow us on Twitter and say 'ello.
—

https://isurveyapps.com/wp-content/uploads/2017/12/htc-10-iphone-4.jpg
1200
1600
Fraser Mair
https://isurveyapps.com/wp-content/uploads/2018/06/iSurvey-Apps-300x100@2x-300x100.png
Fraser Mair
2017-12-08 05:19:09
2017-12-08 05:19:09
New Version of iSurvey Inspector App Available (With Bug Fixes) - Important Information for Users
https://isurveyapps.com/wp-content/uploads/2017/11/iphone-6-plus-galaxy-s5.jpg
608
952
Fraser Mair
https://isurveyapps.com/wp-content/uploads/2018/06/iSurvey-Apps-300x100@2x-300x100.png
Fraser Mair
2017-11-16 14:42:45
2017-11-22 02:14:10
New Update and Features Available for iSurvey Inspector on iOS and Android
https://isurveyapps.com/wp-content/uploads/2017/10/to-let-boards.jpg
600
1600
Fraser Mair
https://isurveyapps.com/wp-content/uploads/2018/06/iSurvey-Apps-300x100@2x-300x100.png
Fraser Mair
2017-10-26 20:46:59
2017-11-16 14:23:24
The Tenant Deposit Scheme in Scotland is now 5 years old - are all Landlords complying?
https://isurveyapps.com/wp-content/uploads/2016/05/iphone_blackberry_android_windows_phone.jpg
804
1200
Fraser Mair
https://isurveyapps.com/wp-content/uploads/2018/06/iSurvey-Apps-300x100@2x-300x100.png
Fraser Mair
2016-05-03 00:03:34
2017-02-09 18:09:19
Improved Offline Preview Feature Available For Inspector Property Inventory App - iOS & Android
https://isurveyapps.com/wp-content/uploads/2015/05/9EE64D0A-90BB-40B8-9E68-CF883D188F77.jpg
866
1300
Fraser Mair
https://isurveyapps.com/wp-content/uploads/2018/06/iSurvey-Apps-300x100@2x-300x100.png
Fraser Mair
2015-05-20 10:07:16
2015-05-20 10:27:39
New iOS Update Available for Inspector Property Inventory App